Recipe: Jicama Salad
Ingredients
1 large jicama

1 Tbs fine chopped jalapeno pepper

Juice of 2 limes

Cayenne pepper for dusting
Instructions
Peel one large jicama using a vegetable peeler. Cut the jicama into cubes and add to a medium bowl. Add the finely chopped jalapeno to the same bowl and add the juice of two limes and toss the mixture together to combine. Chill for 30 minutes and serve as a refreshing salad. Dust with cayenne pepper before serving for extra heat.
Copyright © Andicakes 2010.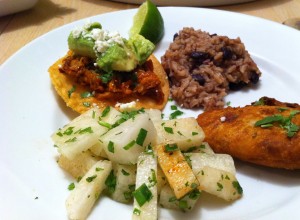 Recipe by yumm yumm yumm.
Microformatting by hRecipe.