Recipe: Prosecco Sabayon Served with Fresh Fruit
Ingredients
8 extra-large egg yolks
2/3 cup superfine sugar
1 cup Prosecco
¼ teaspoon pure vanilla extract
Mixed fresh berries for serving
Instructions
To make the sabayon, whisk together the egg yolks and sugar in a heat-proof bowl set over a pan of simmering water. Heat until the mixture becomes thick and creamy, about 4 to 5 minutes. Continue to whisk almost constantly, scraping the egg mixture from the bottom of the bowl. After 5 minutes very slowly whisk in the Prosecco and continue whisking over the simmering water for another 5 minutes longer and the mixture will be thick and smooth. The temperature should register 150 degrees on an instant-read thermometer and lastly whisk in the vanilla until incorporated and remove from the heat and set aside while you prepare the fruit. Place fresh mixed berries in serving bowls and spoon enough sabayon over the fruit to dip them. Serve the fruit cold and the sabayon either warm or cooled. If you refrigerate the sabayon sauce you will need to place the plastic wrap directly over the sauce to prevent a skin from forming. The sauce is terrific warm or cold.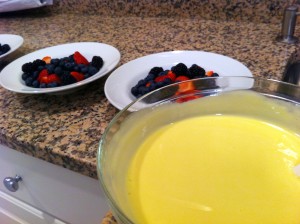 Recipe adapted from the Barefoot Contessa   http://www.barefootcontessa.com/
Copyright © Andicakes 2010.
Recipe by yumm yumm yumm.
Microformatting by hRecipe.