Recipe: Caribbean Breeze
Ingredients
6 oz Malibu coconut rum
3 oz Bacardi 151
18 oz fresh pineapple juice
1 tsp grenadine per serving
Maraschino Cherries for garnish
Add the Malibu coconut rum, Bacardi 151 and the pineapple juice to a pitcher and use a whisk to combine. Fill highball glasses with ice and add 1teaspoon of grenadine to each highball glass. Pour the cocktail over the iced glasses, add a maraschino cherry and enjoy! Drink responsibly.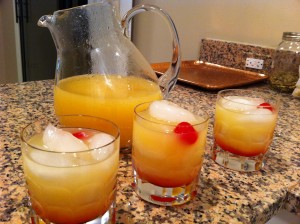 Copyright © Andicakes 2010.
Recipe by yumm yumm yumm.
Microformatting by hRecipe.