Recipe: Chocolate Covered Strawberries
Ingredients
6 oz of Ghirardelli 60% Cacao Bittersweet Chips
6 oz of Ghirardelli Semi-Sweet Chocolate Chips
2 lbs ripe fresh strawberries
6 oz of Bakers white chocolate squares
Instructions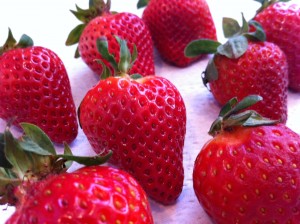 First it is important to line a sheet pan with parchment paper. Next wash and thoroughly dry all the strawberries. It is key to successful strawberries they are clean and dry.
Next pour both types of chocolate chips into a heat proof bowl and set the bowl over simmering water not allowing the bowl to touch the simmering water. Melt the chocolate chips over the double boiler until melt completely and fully incorporated.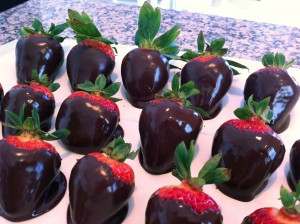 Once the chocolate is melted, remove the heat proof bowl from the double boiler. Holding one strawberry at a time at the stem, dip the berry into the chocolate covering 90 percent of the bottom half of the strawberry and allow the excess chocolate to drip off before placing on the sheet pan line with parchment paper to cool. Repeat the same process with the remaining strawberries.
Once all of the strawberries have been covered in chocolate place them in the refrigerator to set the chocolate for 15 minutes. After the chocolate covered strawberries have cooled in the refrigerator for 15 minutes, prepare the white chocolate.
Melt 6 oz of white chocolate in a small bowl in the microwave for 1 ½-2 minutes in 15 second increments stirring between each increment to prevent the white chocolate from burning. Once the white chocolate is melted and whisked smooth take a teaspoon and in one stroke drizzle the melted white chocolate across the entire sheet pan lined with parchment paper with the chocolate covered strawberries in one long stroke and repeat 5 times until the pattern is ascetically pleasing. Return the sheet pan to the refrigerator to cool for another 30 minutes. To store the chocolate covered strawberries transfer to a platter and place 2-3 layers of dry clean paper towels under the berries and change the paper towels daily. The chocolate covered strawberries will last up to 3 days refrigerated.
Copyright © Andicakes 2010.
Recipe by yumm yumm yumm.
Microformatting by hRecipe.