Recipe: Spicy Baba Ganoush
Ingredients
1 Eggplant
2 small red bell peppers, seeded
1 red onion, peeled
2 garlic cloves, peeled and minced
3 Tbs extra virgin olive oil
1 tsp kosher salt
1/2 tsp freshly ground black pepper
Pinch of ground cumin
Pinch of cayenne pepper
1 Tbs tomato paste
1 Tbs fresh squeezed lemon juice
2 Tbs fresh minced parsley
Parsley leaves to garnish
Instructions
Preheat the oven to 400 degrees F. and position the rack to the center position. Line a sheet pan with aluminum foil for real easy clean up.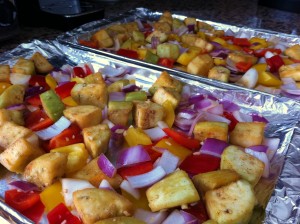 Peel and cut the eggplant, cut the bell peppers removing the seeds and stem, and peel and cut the red onion all into one inch cubes and place them in a large bowl. Now add the minced garlic, extra virgin olive oil, salt, pepper, cumin and cayenne pepper and toss to coat evenly. Spread the coated vegetables in an even layer on the foil lined baking sheet and roast for 30 to 45 minutes, until the vegetables are lightly browned and softened.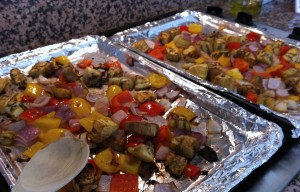 After the vegetables have roasted, remove from the oven and allow to cool for 5 minutes and scrape the vegetables and any drippings into the food processor using the steel blade attachment and add the tomato paste and lemon juice and pulse 3-6 times until just combined and barely minced together. Transfer the mixture to a serving bowl and gently mix in the fresh minced parsley and garnish with fresh parsley and serve room temperature or cold with pita chips.
Recipe adapted from the Barefoot Contessa   http://www.barefootcontessa.com/
Copyright © 2011 Andicakes.
Recipe by Now you're cooking!.
Microformatting by hRecipe.