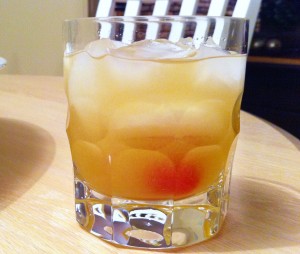 Recipe: Whisky Sour
Ingredients
Ice cubes
3/4 cup Irish whiskey (Jameson's)
Maraschino cherries
1/3 cup fresh squeezed lemon juice
1/3 cup fresh squeezed lime juice
1/2 cup simple sugar syrup, cooled
Instructions
Fill four rocks glasses with ice. Place one maraschino cherry in each glass. In a small pitcher combine the whiskey, lemon juice, lime juice, and sugar syrup and stir to combine. Pour beverage over the glasses filled with ice and enjoy. Drink responsibly.
Recipe adapted from the Barefoot Contessa   http://www.barefootcontessa.com/
Copyright © 2011 Andicakes.
Recipe by Now you're cooking!.
Microformatting by hRecipe.