Recipe: Tabbouleh
Ingredients
1 1/4 cups boiling water
1 cup bulgur wheat (fine)
1/2 cup freshly squeezed lemon juice
1/4 cup extra virgin olive oil
1 ½ tsps kosher salt
1 teaspoon freshly ground black pepper
1 tsp fresh ground black pepper
¾ cup thin sliced scallions, white and green parts
½ cup minced red onion
1 cup chopped flat-leaf parsley
1 small cucumber, seeded, and small diced
2 cups cherry tomatoes, sliced in half
1 Tbs champagne vinegar
1 Tbs red wine vinegar
Instructions
Heat 1 ¼ cups water in the microwave until it is boiling. Pour 1 cup of fine bulgur wheat into a large bowl and then pour the boiling water over the bulgur wheat. Next add the fresh squeezed lemon juice, extra virgin olive oil and salt into the bowl and stir until just incorporated. Cover the bowl with a towel for 1 hour to allow the liquid to absorb.
After an hour there will still be some excess liquid and that is okay. The wheat should be room temperature after 1 hour, now add the tsp of black pepper, scallions, red onion, parsley, diced cucumber, sliced tomatoes to the bowl with the bulgur wheat. Now add the champagne and red win vinegar to give it some kick and stir the mixture to incorporate the ingredients.
Cover the bowl with plastic wrap and cool in the refrigerator for several hours to blend the flavors and serve.
Recipe adapted from the Barefoot Contessa   http://www.barefootcontessa.com/
Preparation time: 1 hour(s) 30 minute(s)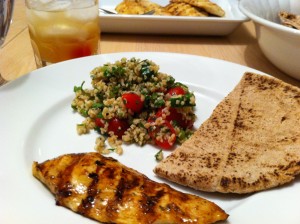 Copyright © 2011 Andicakes.
Recipe by Now you're cooking!.
Microformatting by hRecipe.