Recipe: Roasted Shrimp Pasta Salad
Ingredients
2 Tbs plus 1 tsp Kosher salt, divided
¾ lb orzo pasta
1/3 cup plus 3 Tbs extra virgin olive oil, divided
¼ cup fresh squeezed lemon juice
¼ cup fresh squeezed lime juice
2 pounds (16 to 18 count) shrimp, peeled and deveined patted dry
¾ tsp fresh ground black pepper
1 cup chopped scallions, white and green parts
½ cup chopped fresh dill
1 cup chopped fresh flat-leaf parsley
1 medium seedless cucumber, unpeeled, medium diced
1/2 cup small-diced shallots
1 lb imported Greek feta cheese, cubed
Instructions
Preheat the oven to 425 degrees F.
First cook the pasta by bringing a large pot of water to a boil. Once the water is boiling add 2 tablespoons of kosher salt and ¾ of a pound of orzo pasta and cook to the package specifications for al dente. Drain the pasta and add the fully drained cooked pasta to a large bowl. In a small bowl combine together the extra virgin olive oil and fresh squeezed lemon and lime juices by whisking vigorously to incorporate. Add the mixture to the warm cooked pasta to be absorbed.
Meanwhile prepare the shrimp. On a sheet pan add the cleaned peeled and deveined shrimp in a single layer. Next drizzle 3 tablespoons of extra virgin olive oil over the shrimp the and then sprinkle 1 teaspoon of kosher salt and ¾ teaspoon of fresh ground black pepper evenly over the shrimp and roast for 7 minutes. Remove the shrimp from the oven and add them to the bowl with the cooked pasta along with any juices that accumulated from roasting to the bowl.
Allow the pasta and shrimp to cool just to room temperature before adding the chopped scallions, dill, parsley, cucumber and shallots. It is best to let the salad rest at room temperature for an hour to allow the flavors to meld. After and hour taste for seasonings and serve at room temperature. Serve chilled cubed Greek feta on the side or mix in just before serving.
Recipe adapted from the Barefoot Contessa   http://www.barefootcontessa.com/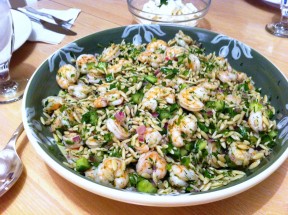 Copyright © 2011 Andicakes.
Recipe by Now you're cooking.
Microformatting by
hRecipe
.