Recipe: Pineapple and Coconut Rice
Ingredients
1 ½ cups long grain white rice
1 (13.5oz) can of coconut milk
½ cup pineapple juice
1 ½ cups water
1 cup of pineapple chunks or fresh pineapple cubes
¼ cup shredded or flaked coconut
Instructions
In a large sauce pan add the rice, coconut milk, pineapple juice and water. Stir to combine and bring to a boil. Reduce the heat to a simmer and cover for 15 minutes. After 15 minutes add the pineapple chucks to the saucepan and cover while simmering another 10 minutes until the rice is cooked. After the rice is finished cooking add the coconut flakes and gently stir to fluff and incorporate. Transfer to a serving bowl and enjoy.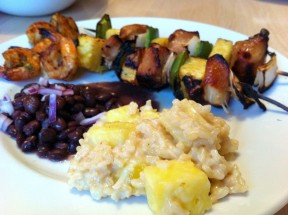 Copyright © 2011 Andicakes.
Microformatting by hRecipe.