Recipe: Chicken and Farfalle Pasta in a Roasted Garlic Cream Sauce
Ingredients
6 chicken breasts, bone in, skin on
Extra virgin olive oil
Kosher salt
Fresh ground black pepper
1 lb bow tie pasta (farfalle)
4 ounces of pancetta, chopped in small dice
1 1/2 cups sliced button mushroom
1 cup chopped onion
1/2 cup sliced sundried tomatoes (in oil)
¾ cup dry white wine
1 cup heavy cream
1 head roasted garlic, minced
1/2 cup grated parmesan cheese
2 Tbs chopped fresh parsley
¾ cup frozen green peas
Instructions
Preheat the oven to 375 degrees F.
Prepare the chicken by placing the chicken breasts on a sheet pan and rub them with 2 tablespoons of extra virgin olive oil and sprinkle with 1teaspoon of kosher salt and ½ teaspoon of fresh ground black pepper. Roast the breasts for 30 to 40 minutes, or until just cooked through and the internal temperature reaches 165 degrees. Set aside until cool enough to handle. Reserve the chicken drippings for the sauce and remove the chicken from the bone and remove the skin and then cube into large diced pieces and set aside.
While the chicken is cooking, heat 1 tablespoon of extra virgin olive oil in a very large sauté pan. Add the diced pancetta and render the pancetta until it is crispy. Use a slotted spoon to remove the pieces on crisp pancetta to a paper towel lined plate to drain excess grease and set aside.
In the same pan with the rendered pancetta fat add the sliced mushrooms and sauté on medium high heat until most of the liquid has evaporated and then the chopped onions and sauté the onions over medium heat until they are caramelized along with the sliced mushrooms. Now add the sliced sundried tomatoes and sauté for another 3 minutes. Deglaze the pan by adding the dry white wine and bring to a simmer and cook until it has reduced by half. Use a wooden spoon the scrape the bottom of the pan to release the brown bits into the wine.
Meanwhile, bring a large pot of water to a boil; season the boiling water with 2 tablespoons of kosher salt. Cook the farfalle pasta to the package specifications for al dente. Drain the cooked pasta but reserve ½ cup of the pasta water.
Now add the heavy cream and bring to a simmer. Add the roasted garlic paste to the cream sauce along with the reserved pan drippings from the roasted chicken and whisk to incorporate well. Add the cubed cooked chicken to the sauce and simmer the sauce for 5 minutes until slightly thickened.
Next add ½ cup of fresh fine grated parmesan cheese to the sauce and stir constantly to incorporate well. Use pasta water to thin the sauce if it gets too thick, but only if necessary. Add kosher salt and pepper to taste and then add the drained pasta to the sauce along with the chopped parsley and peas. Stir to incorporate and to warm the peas through. Add ½ of the crisp pancetta and toss again to incorporate and transfer to a large serving platter. Garnish with the remaining crisp pancetta pieces and serve!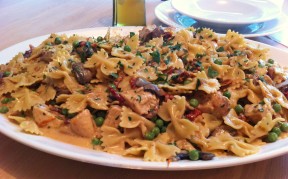 Copyright © 2011 Andicakes.
Microformatting by hRecipe.