Recipe: Smokey & Tender, Baby Back Ribs
Ingredients
For the Brine:
1 cup kosher salt
1/2 cup sugar
4 cups water
2 racks baby back ribs, 2 lbs each rack
For the Dry Rub:
2 Tbs smoked paprika
1 Tbs chili powder
2 Tbs ground cumin
1 Tbs dark brown sugar
1 teaspoon dried oregano
1 teaspoon fresh ground black pepper
1 teaspoon ground white pepper
1/2 teaspoon cayenne pepper
½ tsp garlic powder
Kosher salt
BBQ sauce for serving, optional
Instructions
For great results prepare 24 hours in advance. First prepare the brine. In a large stock pot or container dissolve 1 cup of kosher salt and ½ cup of sugar in 4 quarts of cold water. Using a long spoon, swirl the water to completely dissolve the sugar and salt. Add the racks of ribs into the brine for 1 to 2 hours in the refrigerator.
While the ribs are brining prepare the dry rub. In a bowl whisk together the smoked paprika, chili powder, cumin, brown sugar, oregano, black pepper, white pepper, cayenne pepper and garlic powder until combined well.
Remove the ribs from the refrigerator and pour out the brine. Pat the ribs dry with paper towel and set on a platter. It is important the ribs are very dry. Season the ribs with kosher, about ¼ tsp per rack. Distribute the dry rub evenly on all the racks and on both sides until they are rubbed completely. Place the dry rubbed ribs on a platter, cover with plastic wrap and refrigerate overnight up to 24 hours in advance.
Just before grilling the ribs prepare the wood chips. The wood chips need to be soaked in water for 30 minutes. Drain the water from the woodchips and set in an aluminum disposable small dish.
Turn the grill on high and place the wood chips that are in the aluminum pan on the side of the grill that will remain on when the ribs are added to the grill. Leave the grill lid closed and allow the wood chips to smoke on high heat for about 20 minutes. After about 20 minutes the wood chips should be heavily smoking. Turn one side of the burners off and leave the other side of the burners on low so the temperature will remain between 250-300 degrees but no warmer. Leave the wood chips in the pan over the side that will remain lit.
Remove the ribs from the refrigerator and discard the plastic wrap. Add the 2 racks on the side of the grill that is not lit. The total cooking time is 4 hours but the ribs need to be flipped and rotated 180 degrees every 30 minutes for even cooking.
After 4 hours of slow grilling the ribs can be transferred to a carving board. Allow the ribs to rest for 10 minutes covered with foil before cutting in-between the bones to serve. Serve with your favorite bbq sauce warmed.
Recipe adapted from America's Test Kitchen   http://www.americastestkitchen.com/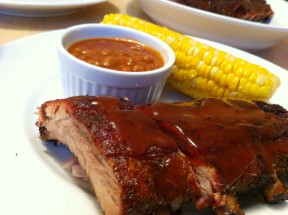 Copyright © 2011 Andicakes.
Microformatting by hRecipe.