Recipe: Banana Bread
Ingredients
5 very ripe almost black bananas
1 ¾ cup all purpose flour
1 tsp baking soda
1/2 kosher salt
8 Tbs melted and cooled unsalted butter
2 extra large eggs at room temperature
3/4 cup packed light brown sugar
1 tsp pure vanilla extract
1/2 cup toasted walnuts, chopped
1 regular yellow banana
1 Tbs sugar
Instructions
First preheat the oven to 350 degrees F and position the rack to the middle position.
In a medium bowl add the five very ripe bananas to a glass bowl. Cover the bowl tightly with plastic wrap and poke a few holes with a knife to allow some steam to escape. Place the bowl with bananas in the microwave for 4-5 minutes and the bananas are very soft and the liquid is extracted,
Meanwhile prepare the loaf pan by spraying with the loaf pan with non-stick cooking spray and set aside.
Additionally in a large bowl combine the flour, baking soda and salt together using a whisk and set aside.
When the bananas are finished in the microwave very carefully remove the plastic wrap being careful to not burn yourself from the steam. Set a small bowl with a sieve over it and pour the bananas into the sieve. The liquid from the bananas will fall into the bowl beneath and should a little less than ¾ of a cup of banana liquid. Press on the bananas to extract as much liquid out as possible. Pour the reserved banana liquid into a saucepan and reduce the liquid until it is reduced down to about ¼ of a cup so the banana flavor is intensified and then add the bananas to the saucepan over very low heat. Use a potato smasher to break down the bananas until they are smooth and incorporated into the reduced liquid. Pour the smooth banana puree into a medium bowl and allow for cooling for a few minutes and add the melted butter, room temperature eggs, brown sugar and pure vanilla and whisk until the mixture is fully incorporated together. Pour this banana mixture into the large bowl with the dry ingredients and fold together until just combined. Add the toasted chopped walnuts and incorporate and then pour the batter into the prepared loaf pan.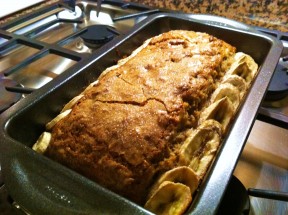 Next slice the regular banana into rings and shingle along both sides of the batter in the loaf pan but none in the center so the loaf can rise. Next sprinkle 1 tablespoon of granulated sugar over the top the sliced bananas and batter.
Bake in the oven for 50-75 minutes or until a tooth pick comes out clean when inserted into the center. Remove from the oven and allow the loaf to cool for 15 minutes before removing the loaf from the pan. Slice, serve and enjoy!
Recipe adapted from America's Test Kitchen   http://www.americastestkitchen.com/
Copyright © 2011 Andicakes.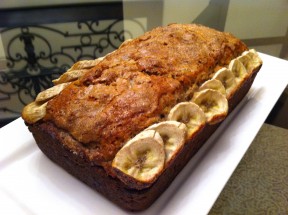 Microformatting by
hRecipe
.