Recipe: Grilled Chicken Fajitas
Ingredients
For the Marinade:
1/4 cup pale ale beer
1/3 cup fresh lime juice
¼ cup olive oil
4 cloves garlic, minced
1 Tbs brown sugar
2 Tbs Worcestershire sauce
1 Tbs ground cumin
1 Tbs kosher salt
1 tsp fresh ground black pepper
For the Chicken:
Garnish:
Salsa verde
Sour cream
Fresh chopped cilantro
Fresh sliced jalapeños
Instructions
In a zip lock bag add the beer, fresh lime juice, olive oil, minced garlic, brown sugar, worcestershire sauce, cumin salt and pepper. Seal the bag and message the ingredients together to incorporate well.
Next add the trimmed chicken breasts to the bag; reseal the bag and set on a rimmed plate to marinade for 2 to 8 hours in the refrigerator.
Preheat the grill on medium-high 400 to 500 degrees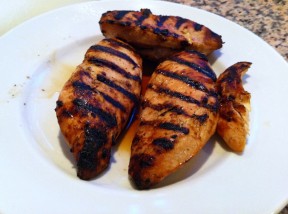 With the grill on medium-high heat, place the marinated chicken breasts for 8-10 minutes per side, turning once with the grill covered. Check for an internal temperature of the chicken breasts to reach 165 degrees.
Remove the chicken from the grill after they reached 165 degrees F to a platter and cover with foil. Allow the chicken to rest for 10 minutes.
Meanwhile prepare the sautéed mushrooms and onions. In a large sauté pan add 1 Tbs of olive oil and 1 Tbs of butter add the sliced mushrooms and sauté for about 10 minutes until they are lightly caramelized. Now add the remaining tablespoon of butter and olive oil to the pan with the mushrooms and add the sliced onions. Sprinkle with ½ tsp of kosher salt and sauté another 10 minutes together until the onions and mushrooms are heavily caramelized and tender.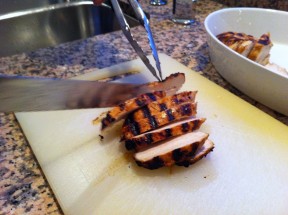 After the chicken have rested, slice the chicken on the bias and transfer to a warm serving platter and top with the caramelized mushrooms and onions.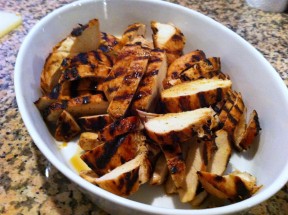 As a side tip- Serve with either flour or corn tortillas or both, sliced jalapeños, sour cream, chopped cilantro and salsa verde. Black beans and rice are a great side dish!
Cooking time: 20 minute(s)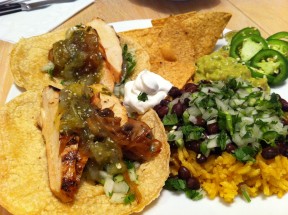 Copyright © 2011 Andicakes.
Microformatting by hRecipe.