Recipe: Ranch Beans
Ingredients
10 slices lean bacon
5 cloves garlic, minced
2 green bell peppers, chopped small
2 tsp ground cumin
1 tsp ground ancho chile powder
2 tsp chili powder
1 tsp tomato paste
1 (12oz) Mexican beer
2 cups water
6 cups cooked pinto beans, rinsed
1 tsp kosher salt
½ tsp fresh ground black pepper
Scallions, sliced
Instructions
First slice the bacon into 2 inch pieces and add to a large Dutch oven over medium low heat. Cook the bacon stirring occasionally for 15 to minutes until the bacon has rendered nearly all the fat and the bacon is crisp. Remove the bacon with a slotted spoon and set aside. Next remove all but 1 Tbs of the bacon fat from the Dutch oven and then return the bacon to the pot.
Increase the heat to medium and add the minced garlic to the pot with the rendered bacon pieces. Stir frequently for 1 minute until the garlic is fragrant then add the small chopped green peppers. Cook the peppers with the bacon and garlic for 5 minutes or until softened. Next add the ground cumin, ground ancho chile powder, chili powder and tomato paste to the pot and stir frequently for another minute to release and heat the spices. Heating the tomato paste by lightly browning will bring out the rich tomato flavor.
Next add the 12oz of Mexican beer and the water to clean the bottom of the pot scraping the brown bits from the bottom using a wooden spoon. Add the rinsed and drained pinto beans and heat the liquid to a simmer. Add 1 teaspoon of kosher salt and ½ tsp of fresh ground black pepper and simmer the beans uncovered in the liquid for 50 minutes. Add a little more water about ½ cup half way through cooking.
Transfer the beans to bowls and garnish with sliced scallions and serve.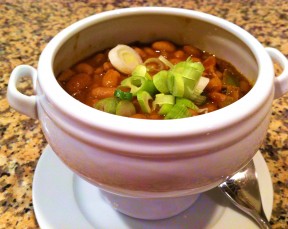 Copyright © 2011 Andicakes.
Microformatting by hRecipe.