Recipe: Roasted Artichoke Medley
Ingredients
28 oz (2- 14oz cans) canned or jarred artichoke hearts, drained
1/2 cup plus 2 Tbs extra virgin olive oil, divided
½ tsp Kosher salt
¼ tsp fresh ground black pepper
2 small shallots, minced
4 Tbs fresh squeezed lemon juice
1 tsp Dijon mustard
1 Tbs champagne vinegar
¼ cup fresh chopped basil leaves
3 Tbs capers, drained
½ cup chopped sun dried tomatoes
½ cup finely minced red onion
½ cup fresh chopped Italian flat leaf parsley
Instructions
First preheat the oven to 375 degrees F. Line a sheet pan with foil for easy clean up. Next spread the drained artichoke hearts on the sheet pan and pat dry with a paper towel to remove excess water. Drizzle 2 tablespoons of extra virgin olive oil evenly over the artichoke hearts. Now sprinkle the Kosher salt and pepper evenly over the artichoke hearts. Toss to combine and then spread into an even layer on the sheet pan. Roast the seasoned artichokes for about 20 minutes
While the artichokes are roasting, prepare the vinaigrette dressing. In the bowl of the food processor using the steel blade or using the blender, add the minced shallots, lemon juice, mustard and champagne vinegar. Process for 3 full 1 second pulses. Next add the basil and pulse a few times until incorporated and then with the machine running pour slowly through the top of the food processor the remaining ½ cup of extra virgin olive oil and process until well combined.
After the artichokes have roasted set aside in a large mixing bowl to cool slightly. Add most of the prepared vinaigrette to lightly coat all the artichokes then add the chopped sun dried tomatoes, capers, red onion and chopped flat parsley and stir with a large spoon until combined. Serve a room temperature.
Recipe adapted from the Barefoot Contessa   http://www.barefootcontessa.com/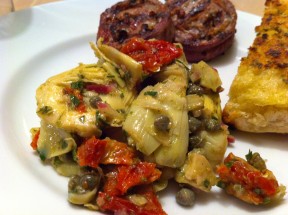 Copyright © 2011 Andicakes.
Microformatting by hRecipe.