Recipe: Flank Steak Italian Pinwheels
Ingredients
Skewers and twine
1 (2lb) flank steak
1 Tbs minced garlic
2 Tbs minced shallots
2 Tbs fresh minced Italian flat leaf parsley
½ tsp dried oregano
2 Tbs extra virgin olive oil
4 slices of prosciutto, sliced very thin
4 slices of provolone cheese, sliced very thin
1 tsp kosher salt
½ tsp fresh ground black pepper
Instructions
*In the photos shown, depict a halved recipe.
First place the flank steak in the freezer for 20 minutes to make butterflying the flank steak easier. Next soak thick wooden skewers for at least 20 minutes to prevent them from burning. Meanwhile, prepare the herb paste by combining the minced garlic, minced shallots, minced parsley, oregano and extra virgin olive oil in a small bowl. Combine well until also a paste as set aside. Preheat the grill to 350-400 degrees F.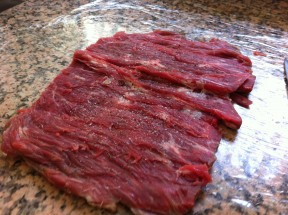 Remove the flank steak from the freezer and butterfly the steak with the grain and then by placing the grain to run parallel with the counter and opening upwards as shown. Pound the steak ¼ thick and trim into a rectangle.
Next spread the herb paste over the butterflied steak leaving a small boarder on all edges.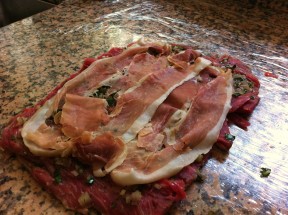 Now layer the prosciutto in an ever layer over the paste leaving a small boarder.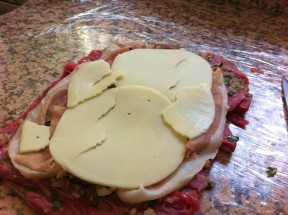 Now layer the provolone over the prosciutto also leaving a small boarder.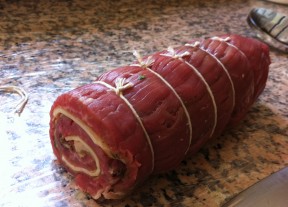 Now making sure the steak grain is running parallel to the counter edger grab from the bottom of the roll and start rolling up so the log will have the grain cut against when slicing the pinwheels. Tie the log with twine every inch and ¼ and slice off the very ends so every slice will have even stuffing.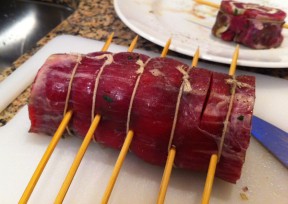 Now skewer at every spot where the twin is tied starting on one side of the twine and the bottom and coming out on the other side of the twine at the top staying as close to center as possible. This will help with slicing same portions but will also stop the pinwheels from binding and buckling from grilling.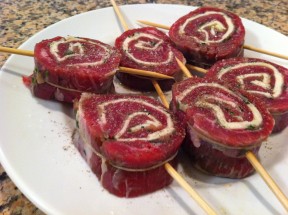 Now slice the pinwheels in between each skewer and season both sides with kosher salt and fresh ground black pepper.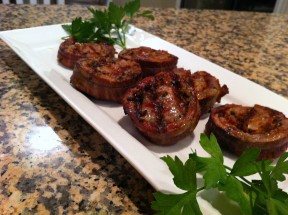 Oil the grates of the grill and grill over direct heat for 3-5 minutes per side and then turn off the heat on one side of the grill and grill the pinwheels over indirect heat for another 1-3 minute per side to finish the rolls so the internal temperature reaches 125 degrees F; this will finishing cooking the pinwheels but not have the cheese burn. Remove the pinwheels from the grill and allow them to rest for 5 minutes covered with foil to keep warm, and then serve.
Recipe adapted from America's Test Kitchen   http://www.americastestkitchen.com/
Copyright © 2011 Andicakes.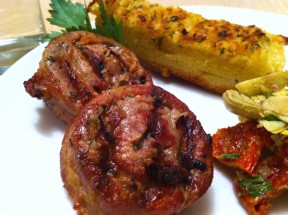 Microformatting by hRecipe.