Recipe: Macaroni Pasta Salad
Ingredients
Instructions
Bring a large pot of water to a boil. Once the water is boiling add 1 Tbs of Kosher salt to the boiling water. Cook the pasta to the package specifications for al dente.
Meanwhile prepare the ingredients for the salad. In a large bowl add the minced red onion, celery and parsley and set aside.
In a small bowl prepare the dressing by combining the lemon juice, mustard, garlic powder, cayenne pepper, mayonnaise, pepper and salt together by whisking until smooth and set aside.
Once the pasta is cooked al dente, drain and rinse under cold water to stop the cooking and cool the pasta completely.
Now add the rinsed, drained and cooled pasta to the bowl with the parsley, celery and onion. Toss well to combine. Next add the dressing to the pasta and stir to combine until incorporated. Cover and refrigerate for at least 2 hours.
Recipe adapted from America's Test Kitchen   http://www.americastestkitchen.com/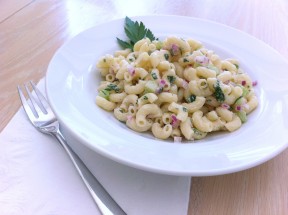 Copyright © 2011 Andicakes.
Microformatting by hRecipe.