Recipe: No Bake Strawberry Cheese Cake
Ingredients
For the Crust: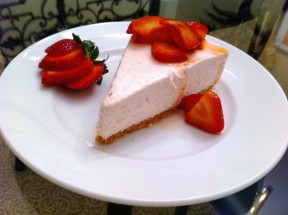 1 1/2 cups crushed graham crackers

1/4 cups sugar

8 Tbs unsalted butter
For the filling:
½ lb of hulled and sliced fresh strawberries

2/3 cups plus 2 Tbs sugar, divided
24 oz cream cheese (room temperature)
1 1/2 cups whipping cream
1 Tbs pure vanilla extract
For the strawberry glaze topping:
1 lb plus 1 cup of hulled and sliced fresh strawberries, divided

1/4 cup sugar
1 Tbs fresh squeezed lemon juice
2 tsp cornstarch
2 tsp warm tap water
Instructions
In a saucepan melt butter and add crushed graham crackers and sugar until combined. Let cool for a minute and press firmly into a 9 inch spring-form pan. Allow to cool completely before proceeding.
In a food processor add ½ lb of the hulled and sliced fresh strawberries along with 2 tablespoons of sugar. Process until smooth and then pour through a fine mesh sieve to remove seeds and set strawberry puree aside.
In another bowl whip the heavy cream until soft peaks form and set aside.
Using the electric mixer on med to high speed, mix the cream cheese, 2/3 plus 2 Tbs of remaining sugar and vanilla for 2 minutes; then add the strawberry puree and continue to mix for another 3 minutes until light and creamy.
Gently fold the whipped cream into the strawberry/cream cheese mixture and transfer on top of completely cooled graham cracker crust. Refrigerate for at least 4 hours to set the no bake cheese cake.
After 4 hours, remove the cheesecake from the spring form pan, smooth any edges. Serve with fruit topping.
Meanwhile prepare the fruit topping. In a saucepan add 1 cup of hulled and slice strawberries along with ¼ cup sugar and the lemon juice. Bring the berries, sugar and lemon juice to a boil for 5 minutes stirring occasionally. In a small bowl combine 2 tsp of corn starch and 2 tsp of warm tap water and mix well until smooth. Add the slurry to the boiling berries and allow thickening for 2 minutes. Pour the mixture through a fine mesh sieve; push on the contents to extract as much flavor; discard the solids and allow the strawberry glaze to cool and refrigerate for at least 1 hour.
1 hour prior to serving the cheesecake. Pour the glaze over the remaining 1 pound of hulled and sliced strawberries and top each slice of cheese cake.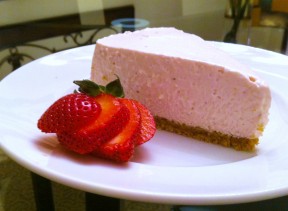 Copyright © 2012 Andicakes.
Microformatting by hRecipe.