Recipe: Stuffed Bell Peppers
Ingredients
6 medium bell peppers, 2 green, 2 yellow or orange & 2 red
1 cup long grain white rice
2 tablespoons olive oil
1 large Spanish onion , chopped fine
2lbs ground chuck beef
6 oz tomato paste
4 cloves garlic, minced
1 (28 oz) can diced tomatoes, drained, reserve juice
2 cups shredded Monterey Jack cheese, divided
½ cup fresh chopped parsley leaves
Fresh ground black pepper
Kosher salt
Instructions
Preheat the oven to 350 degrees F.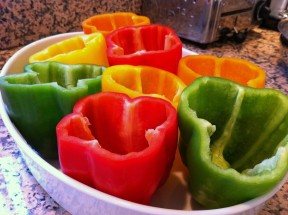 Bring water to boil in large stockpot over high heat. Meanwhile, prepare the peppers. Slice the tops off discarding the stems and reserving the top portions. Gently remove the core and seeds from the insides of the peppers. Now slice the bottoms only enough to allow the pepper to sit upright but do not slice so much to that the bottom is no longer a shell to hold the contents. Chop the reserved top portions into small diced pieces and set aside. Once the water is rapidly boiling add 2 tablespoons of Kosher salt and then add the hollowed bell peppers and boil for exactly 3 minutes. Using tongs, carefully remove the peppers from boiling water, drain and place peppers cut sides up into a gratin dish. Use a dish that will hold the peppers snuggly together so they will not fall over.
Using the same pot with boiling water add the rice and cook for 15 minutes then drain rice and set aside into a very large working bowl.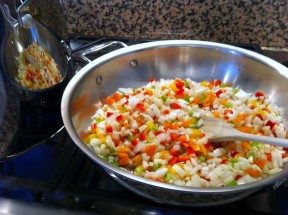 Heat the olive oil in a large 14 inch skillet over medium-high heat. Add the diced onions and reserved tops of diced bell peppers. Cook the peppers and onions until they have softened and start to brown.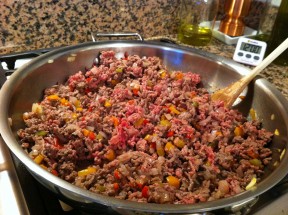 Now add beef and use a wooden spoon to break the beef into small pieces while cooking. Cook the beef just until it is no longer pink and add the minced garlic and cook for an additional minute stirring constantly. Now add the tomato paste 1 tsp kosher salt and ½ tsp fresh ground black pepper and cook into the beef for 2 minutes until it has slightly darkened. Allow to cool for 5 minutes.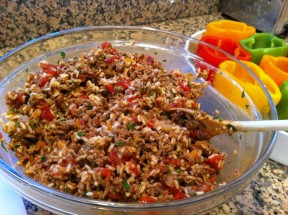 Transfer the beef mixture to bowl with rice and add diced tomatoes, 1 ½ cups shredded cheese, the chopped parsley, and ½ tsp kosher salt and ½ tsp fresh ground black pepper. Stir to just combine.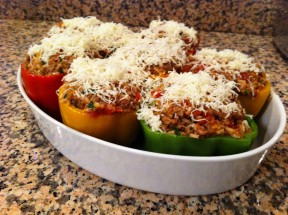 Now fill the peppers with the mixture making sure to distribute evenly. Once filled, add the remaining ½ cup of cheese over the tops of each filled pepper. Add the reserved juices into the gratin to surround the peppers with some liquid while they bake for 30 minutes until the tops are brown and bubbling and the peppers are thoroughly heated.
Recipe adapted from America's Test Kitchen   http://www.americastestkitchen.com/
Copyright © 2012 Andicakes.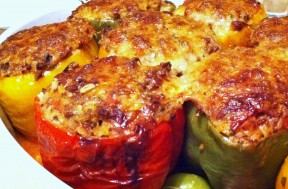 Microformatting by hRecipe.