Recipe: Tuscan Porchetta
Ingredients
1 large fennel bulb, fronds reserved
2 lemons, divided
1 (3 ½ lb) boneless pork loin
6 medium cloves of garlic, peeled
1 Tbs kosher salt
2 tsp fresh ground black pepper
2 tsp herbs de Provence
1 ¼ cup dry white wine
Instructions
Preheat an oven to 400°F.
First prepare the bed for the roast by reserving the fronds and then removing the core from the fennel bulb and then slicing ¼ inch slices and placing into a shallow roasting pan just large enough to fit the roast. If the pan is too large the fennel and lemon will burn. Now prepare the lemons. Remove the zest from one lemon and set aside and slice the other lemon into ¼ thick slices and scatter within the roasting pan among the fennel slices. Scatter ½ of the reserved fronds among the sliced lemons and fennel and reserve the remaining fronds for your garnish.
Now prepare the roast. Tie the pork loin with butchers twine every inch and trim the fat cap so it is no more than ¼ inch in thickness. Using a small sharp knife poke 6 holes evenly distributed into the pork loin and insert the 6 cloves of garlic. Sprinkle the kosher salt, black pepper, herbs de Provence and reserved lemon zest evenly distributed over the pork loin. Pat firmly to loin to make sure they adhere. Place the prepared pork loin in the center of the roasting pan on top of the fennel and lemon slices. Pour the wine over the fennel and lemon slices. Use the same wine you plan to drink with dinner, it is important to use a quality dry white wine or your dish will suffer.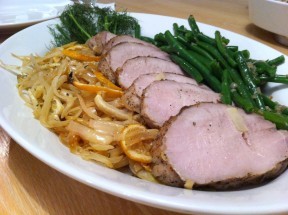 Roast uncovered for about 1 ½ hours or until the pork just reaches 145 degrees. Remove the roast from the oven and transfer to a carving board and place foil over to cover loosely to rest for 10 minutes. After 10 minutes, remove and discard the string, and slice the pork loin into ½ thick slices. To serve, transfer the fennel and lemon slices to a platter. Pour any juices from the pan over the fennel and lemon. Place the slices of roasted pork loin along with any juices over the slices and garnish with the reserved fennel fronds.
Preparation time: 15 minute(s)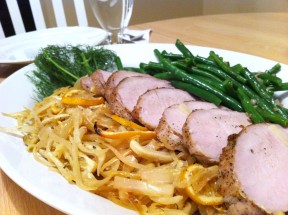 Cooking time: 1 hour(s) 30 minute(s)
Copyright © 2012 Andicakes.
Microformatting by hRecipe.