Recipe: Ginger's Pound Cake
Ingredients
3/4 cup chopped walnuts and pecans
3 sticks (24Tbs) unsalted butter at room temperature
3 cups granulated sugar
6 extra-large eggs at room temperature
1 Tbs pure vanilla extract
3 ¼ cups flour, sifted
1 cup heavy cream
1Tbs confectioners sugar
Instructions
Preheat the oven to 350 degrees F. Grease and flour a 10-inch tube pan. Add the chopped walnuts and pecans in an even layer to the bottom of the prepared pan.
Cream the room temperature butter and sugar in the bowl of an electric mixer fitted with the paddle attachment for 5 minutes and then add the room temperature eggs 1 at a time until fully incorporated. Next add the pure vanilla.
With the mixer on low, add ½ of the sifted flour mixture to the batter and ½ of the heavy cream then the remaining half of the flour and cream until just combined without over mixing
Pour the batter over the chopped nuts being careful to not disturb and bake for 1 hour to 1 hour 15 minutes until a toothpick comes out clean.
Cool on a wire rack for about 30 minutes and unmold to a serving platter, dust with confectioners sugar
Number of servings (yield): 12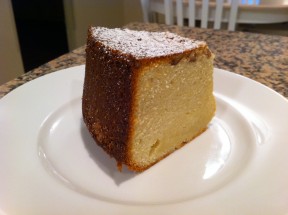 Copyright © 2012 Andicakes.
Microformatting by hRecipe.