Recipe: Pan Seared Shrimp with Pasta in a wine sauce
Ingredients
¾ lb orecchiette pasta
3 Tbs extra virgin olive oil, divided
½ lb peeled/deveined cleaned shrimp
2 Tbs butter
3 Tbs minced shallots
4 cloves garlic, minced
1 cup small cherry tomatoes sliced in half
1 cup very dry white wine- Chardonnay
1/4 cup fresh lemon juice
2 Tbs chopped basil
Shavings of Parmigiano Reggiano cheese to garnish
kosher salt
fresh ground black pepper
Instructions
Bring a large pasta pot to a boil and salt the water with a tablespoon of Kosher salt. Cook the pasta until tender but still firm to the bite, stirring occasionally, according to the package specifications.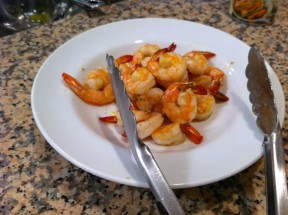 Meanwhile prepare the shrimp. For the shrimp to sear quickly without over cooking it is important that the cleaned peeled and deveined shrimp are dried with paper towel. Season the shrimp with 1 teaspoon of kosher salt and ½ teaspoon of fresh ground black pepper and set aside. In a large sauté pan, heat 1 tablespoon of extra virgin olive over medium heat. Pan sear the cleaned shrimp in a single layer for approximately 1 ½ minutes then flip each shrimp and sear for another 1 ½ minutes or until the shrimp are no longer translucent. Do not overcook the shrimp, as soon as them become opaque, remove them from the sauté pan to a plate or bowl and set aside.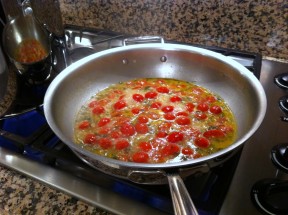 Using the same pan used to sear the shrimp leave any drippings or fond to the pan and add the remaining 2 tablespoons of extra virgin olive oil along with 2 Tbs of butter. Heat the oil and butter over medium heat and add the shallots and cook until translucent and fragrant. Add the minced garlic and sauté for a minute stirring constantly. Next add the sliced cherry tomatoes and sauté with the garlic and shallots for about a minute until they start to shrivel. Now add the wine and deglaze the pan and simmer until it has reduced slightly. Now add the fresh lemon juice and basil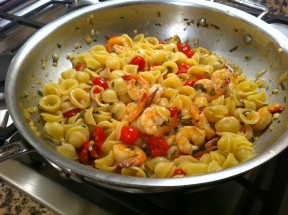 The pasta should just be just about finished cooking so add the drained orecchiette to the sauté pan with the sauce and coat the pasta evenly. Season with ¼ teaspoon of kosher salt and ½ tsp fresh ground pepper and return to shrimp along with any accumulated juices to warm through. Stir gently and place on a serving platter or to warmed bowls. Garnish with shavings of cheese and basil. Serve immediately.
Cooking time: 15 minute(s)
Number of servings (yield): 2
Copyright © 2012 Andicakes.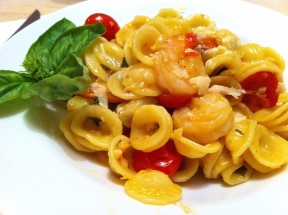 Microformatting by hRecipe.