Recipe: Wild Rice Mushroom Soup
Ingredients
1 cup of cooked wild rice
16 oz of Portobello or cremini mushrooms
2 oz of dried porcini or mixed mushrooms
4 Tbs of butter, divided
1 Tbs of olive oil
1 cup finely diced onion
¾ cup dry white wine
2 cloves of garlic, minced
1 tsp fresh chopped thyme
4 cups of homemade chicken stock
kosher salt
freshly cracked black pepper
½ cup of half and half
Parsley, optional
Instructions
Bring 2 ½ cups of boiling water over the dried mushrooms and set aside for thirty minutes. After 30 minutes scoop the mushrooms from the water with a slotted spoon and make sure to reserve the liquid. Using a coffee filter pour the liquid though the filter to remove all the gritty substance from the liquid. You should have 1 ½ cups of mushroom liquid but if not, add some water to make 1 ½ cups. Now pat dry the hydrated mushrooms and chop the soaked mushrooms into pieces and set aside.
Meanwhile, prepare the portabella or cremini mushrooms by removing and discarding the stems. Using a clean paper towel clean the mushrooms by rubbing any dirt off the caps but don't be tempted to rinse them. Slice the cremini or portabella mushrooms thickly and then set aside.
In a Dutch oven heat 2 tablespoons of the butter over medium heat. Sauté the fresh Portobello or cremini mushrooms with a pinch of kosher salt until they begin to release their liquid and begin to caramelize; this will take roughly 10 minutes. Transfer the sautéed mushrooms to a bowl and set aside.
In the same Dutch oven add 1 tablespoon of butter and sauté the re-hydrated mushrooms over medium heat until they are caramelized.
Now add the remaining tablespoon of butter and the olive oil to the Dutch oven with the caramelized hydrated mushrooms with another pinch of kosher salt and sauté the diced onions until translucent and then add the garlic and thyme and stir frequently for another minute. Deglaze the pan by adding all the dry white wine and bring to a simmer. Now add the reserved 1 ½ cups of mushroom soaking liquid along with the chicken stock and ½ of the fresh sautéed mushrooms. Bring the pot to a boil then reduce to a simmer and using an immersion blender, process until smooth. You can also use a food processor or blender. Bring the soup back to a boil and then reduce to simmer.
Add the half and half and most of the remaining sliced sautéed mushrooms (reserve a few pieces for garnish). Add another large pinch of kosher salt, about ½ teaspoon and fresh ground black pepper and stir to incorporate. Simmer gently for another few minutes. More stock can be added if you want a thinner broth. Distribute 4 tablespoons of the cooked wild rice to the bottom of each bowl being served. Pour hot soup over the wild rice and garnish with the remaining sliced mushrooms and a leaf of parsley if desired. Serve hot.
Preparation time: 45 minute(s)
Cooking time: 20 minute(s)
Number of servings (yield): 6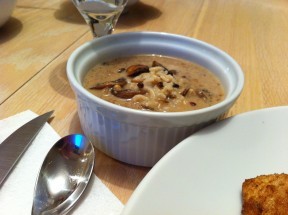 Copyright © 2013 Andicakes.
Microformatting by hRecipe.