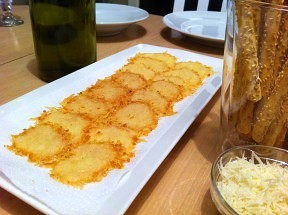 Ingredients
3 oz of large grated parmesan reggiano cheese
1 oz of fine grated parmesan reggiano cheese
1/8 tsp fresh minced thyme
1 teaspoon flour
Fresh ground pepper
Instructions
Preheat oven to 375 degrees.
Line 2 sheets pan with parchment paper.
In a small bowl combine the large and fine grated cheese along with the minced thyme, flour and fresh ground pepper.
Mix the ingredients to combine well.
Take a level tablespoon of the mixture and mound on the sheet pan like making cookies.
Leave enough space as they will spread a little.
Bake each sheet separately on the center rack for about 8 minutes until just golden.
Allow the crisps to cool on the pan for 5-10 minutes and then transfer to a serving platter.
Serve at room temperature.
Copyright © 2015 Andicakes