Recipe: Pistachio Cupcakes with Cream Cheese Frosting
Ingredients

For the Cupcakes
1½ cups all-purpose flour
1½ tsp baking powder
½ tsp kosher salt
1 box of Jello brand pistachio pudding mix
½ cup unsalted butter, room temperature
1 cup granulated sugar
2 eggs, at room temperature
½ tsp pure vanilla extract
½ cup buttermilk
½ cup of chopped raw walnuts
For the Cream Cheese Frosting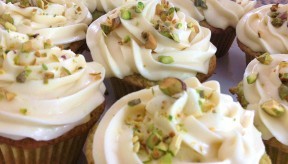 1½ sticks unsalted butter, room temperature
8 oz cream cheese, room temperature
2¾ cups powdered sugar
½ pure vanilla extract
Garnish
Shelled- salted pistachios- chopped
Instructions
Preheat the oven to 325 degrees F. Line a standard muffin tin with paper liners; set aside.
In a medium bowl, whisk together the flour, baking powder, pistachio pudding mix and salt; set aside.
In a stand mixer on medium-high speed, cream the room temperature butter and sugar together until pale, light, and fluffy for 5 minutes.
Reduce the speed of the mixer to medium and add the room temperature eggs one at a time until fully incorporated.
Now scrape the sides of the bowl. Turn the mixer on medium low and add vanilla. Mix until combined.
Now lower the mixer speed to low and add the dry ingredients and buttermilk in three batches, alternating with the buttermilk in two batches. Do not overmix and finish fully incorporating by mixing by hand. Now add the chopped walnuts
Divide the batter between the lined muffin cups. Bake the cupcakes for approximately 18-25 minutes or until just slightly golden and a skewer shows only moist crumbs.
Set the cupcakes aside to cool completely.
While the cupcakes are cooling prepare the frosting. With the stand mixer on medium high using the whisk attachment, whip the room temperature butter and cream cheese for 5 minutes. Next reduce the speed to low, and slowly add the powdered sugar until it is fully incorporated. Now add the pure vanilla extract and increase the speed to medium-high speed until fluffy. Note that if the frosting appears too runny add some additional sugar, one spoonful at a time.
Frost the cupcakes and garnish, with chopped pistachios.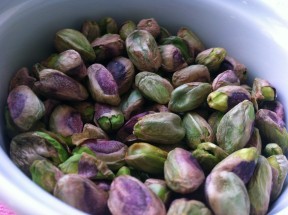 Preparation time: 15 minute(s)
Cooking time: 18 minute(s)
Copyright © 2015 Andicakes.
Recipe by Now You.
Microformatting by hRecipe.