Recipe: Southwest Chicken & White bean soup
Summary: Southwest Chicken & White bean soup
Ingredients
2 Tbs of olive oil
2-3 medium yellow onion, chopped fine
8 cloves garlic, minced
2.5 quarts of homemade chicken stock
2 tsp dried oregano
1 tsp ground cumin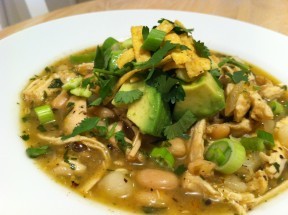 1/8-1/4 tsp cayenne pepper
3/4 cup chopped cilantro, stems reserved
2 tsp lime zest
2 cups shredded cooked chicken
1 can of cannellini beans or great northern beans
Kosher salt
Fresh ground black pepper
1/4 cup fresh squeezed lime juice
Garnishes:
Tortilla strips
Jalapeños or Serrano, sliced thin
Scallions
Diced avocado
Lime wedges
Instructions
In a large Dutch oven heat the olive oil and sauté the fine chopped onions until translucent, about 5 minutes. Next add the minced garlic and stir frequently for 1 minute until fragrant. Add the oregano, cumin and cayenne pepper and stir until mixed in and then add the homemade chicken stock.
Next wrap the reserved stems of the cilantro in cheesecloth so it can be easily removed later and place into the soup. The stems have a lot of flavor that will be released but can also be removed after it turns dark from cooking. Now add the lime zest and increase the heat to bring the soup to a boil then reduce to a simmer and continue to simmer uncovered for 10 to 15 minutes. Next add the shredded cooked chicken and beans and warm through, about 5-10 minutes and add about 2 teaspoons of kosher salt and 1 tsp of fresh ground black pepper. Add the ½ cup of fresh chopped cilantro and the lime juice. Stir the soup to incorporate and simmer another minute.
To serve the soup garnish or serve with crispy store bought or home made tortilla strips, diced jalapeños or Serrano pepper, fresh chopped cilantro, scallions, diced avocado and lime wedges.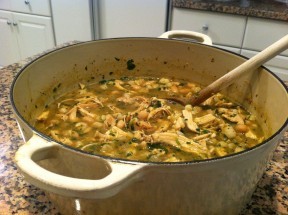 Diet tags: Low calorie, High protein
Culinary tradition: Mexican
Copyright © 2013 Andicakes.
Microformatting by hRecipe.