Brie en Croute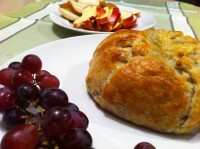 ¼ chopped walnuts
¼ chopped pecans
2 Tbs unsalted butter
1/8 tsp ground cinnamon
1/8 tsps nutmeg
¼ cup brown sugar
¼ tsp kosher salt
1 (12-16 ounce) wheel of Brie
1 sheet of Pepperidge Farm puff pastry defrosted
1 egg, lightly beaten for egg wash
Line a sheet pan with parchment paper.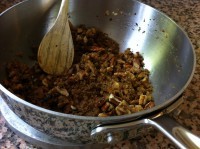 In a small dry saucepan heat the chopped nuts until they are fragrant, about 3 minutes then add the butter, cinnamon, nutmeg, brown sugar and salt and combine well. Remove the saucepan from the heat and cool to room temperature.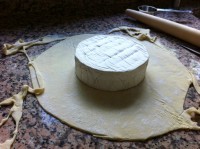 On a floured surface lay one sheet of cold puff pastry and roll out gently to make the square an inch longer on each side. Place the wheel of brie in the center of the square and trim a circle of the puff pastry around the wheel of brie that is 5 inches wider than the brie. Save the scraps to cut out leaves with a cutter for the top decoration.
Once the nut and spice mixture has cooled to room temp pour the contents over the center of the top of the wheel of brie.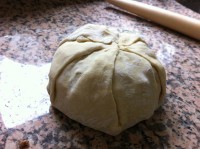 To enclose the wheel of Brie gather the edges of the puff pastry pressing it together. In a small bowl beat an egg to make an egg wash. Brush the egg wash to secure the puff pastry together to secure the pouch will not open.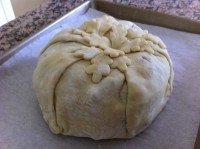 Using the reserved puff pastry scraps cut out leaves or other decorations and top the brie enclosure to decorate. Brush the remaining egg wash to secure the leaves. Place the decorated brie in the fridge to chill for 20 minutes. Meanwhile preheat the oven to 400 degrees.It is important the puff pastry is cold when entering the oven.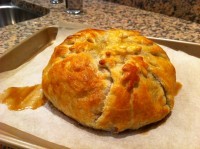 Once chilled, remove from the fridge and quickly brush the entire brie en croute with the egg wash and place in the preheated oven to bake for 15-20 minutes until golden brown.
Allow the brie en croute to rest for 5 minutes as the brie will be very hot. Cut with a chees knife and serve with grapes, apple and or crackers and serve warm.