Recipe: Grilled Spicy Peruvian Chicken with a Garlic Mayonnaise
Ingredients
For the Grilled Chicken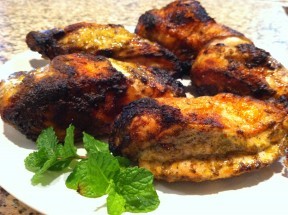 3 Tbs extra vigin olive oil
¼ cup fresh mint leaves
¼ cup fresh cilantro
1 Tbs Kosher salt
1 Tbs fresh ground black pepper
1 Tbs ground cumin
2 tsp smoked paprika
1 tsp dried oregano
Zest from 2 limes
¼ cup fresh lime juice
1 small habanero chili
4-6 bone-in, skin-on chicken breasts
For the spicy garlic mayonnaise
1 extra-large pasteurized egg
2 Tbs water
1 Tbs minced yellow onion
1 Tbs minced fresh cilantro
1 Tbs minced fresh serrano peppers
2 tsps minced garlic
1 tsp yellow mustard
½ tsp Kosher salt
1 cup vegetable oil
Instructions
In a food processor fitted with the steel blade all add the ingredients for the grilled chicken except the chicken. Process the ingredients until it forms a thin paste about 20 seconds and pour into a zip lock bag. Add the chicken breasts to the bag with the marinade, zip tightly and place on a leak poof dish and refrigerate for up to 24 hours. Turn the bag over every 4 to 8 hours.
After 8 to 24 hours, preheat the grill on medium-high heat. You will be cooking the chicken with indirect heat by leaving the side burners on and the center burner off. Remove the chicken from the bag and place on a dish and discard any remaining marinade.
With the grill on medium-high heat about 350-400 degrees, place the breasts up and bone side down for 30-40 minutes in the middle of the grill over the burners that are not turned on. Grill with the grill covered. For the last five to 10 minutes turn the chicken breast on its thickest side and grill. Check for an internal temperature of the chicken breasts to reach 165 degrees and let rest for 5 minutes. Serve with black beans and rice or fried plantains or mango salsa. Click here for Mango Salsa Recipe
Meanwhile prepare the spicy garlic mayonnaise. Using a food processor fitted with the steel blade place all the ingredients for the mayonnaise except for the oil and process for few seconds until all the ingredients are finely minced, then with the processor running, slowly drizzle in the oil until the consistency is of thicken sauce or hollandaise consistency. Serve aside or on the grilled chicken.
Recipe adapted from America's Test Kitchen http://www.americastestkitchen.com/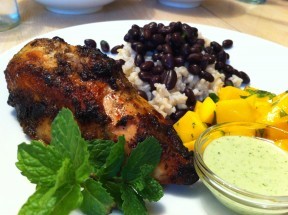 My rating 5 Oh my stars!:  ★★★★★ 1 review(s)
Copyright © 2013 Andicakes.
Microformatting by hRecipe.