Flourless Nut Bread, Low Carb
Ingredients: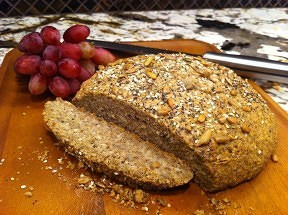 2 Tbs Oat Bran
5 Tbs warm water
1 1/3 cups roasted unsalted sunflower seed 1 Tbs extra for garnish, divided
1 cup raw almonds
½ cup toasted or untoasted flax seeds
½ cup shredded unsweetened coconut
1 tsp Kosher salt
Pinch of cinnamon
4 large eggs, lightly beaten
5 Tbs unsalted butter, room temperature/softened
2 Tbs extra virgin olive oil
1-2 Tbs sesame seeds
1-2 Tbs poppy seeds
Directions:
Preheat the oven to 325 degrees with the metal rack on the center position. Line a baking sheet with parchment paper.
First soak the oat bran in the warm water for 5 minutes, meanwhile process in a food processor using the steel blade;  only 1 cup of sunflower seeds, almonds, flax seeds, coconut, salt and cinnamon. Process until it becomes meal. Try not to allow it to get to oily and stop processing as soon as the nuts are ground finely. Dump the meal into a larger bowl and add the soaked oat bran, beaten eggs, softened butter and extra virgin olive oil. Use a rubber spatula and fold in the ingredients until they are combined. Now stir in 1/3 cup of the sunflower seeds.  Dump the batter on the lined sheet pan, damp your hands with water and shape the batter into a boule. Sprinkle the top with the remaining sunflower seeds, sesame and poppy seeds and bake for 45 min to 55 minutes. Remove and cool on a wire rack completely prior to cutting.