Savory Noodle Kugel
2 Tbs extra virgin olive oil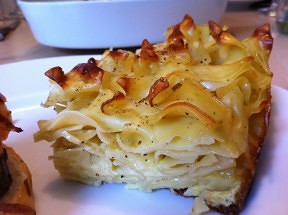 2 Tbs butter, divided
2 medium onions, diced small
1 tsp minced fresh garlic
1 lb Egg noodles
5 Large eggs
Kosher Salt
Fresh ground black pepper
Extra butter for topping
Directions
Preheat oven to 375 degrees. Line a sheet pan with parchment paper and butter a  1- 1 ½ quart dish with 1 tablespoon of butter.  Meanwhile bring a large pot of water to a boil for the noodles. In a skillet heat 2 tablespoons of extra virgin olive oil and the remaining 1 Tbs of butter and sauté the diced onions until translucent, about 15 minutes.  About halfway through cooking, season the onions with 1 tsp of Kosher salt and ½ tsp of fresh ground black pepper.  Add the minced garlic and cook for another 3 minutes stirring constantly so they don't burn.
Once the water is boiling, cook noodles to the package specification but reduced by 2 minutes so they are al dente. This will allow for the noodles to not overcook while baking. Drain and set aside
While noodles are cooking, in a large bowl whisk together the eggs and another ½ tsp of Kosher salt and ½ tsp of fresh ground black pepper.
Now add cooked drain noodles to egg mixture and mix gently until incorporated. Pour the mixture into the butter baking dish. Scatter several pats of butter across t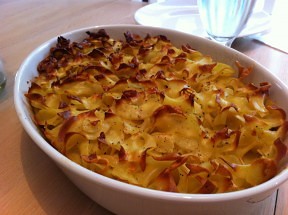 he top and add a little more fresh black pepper to decorate.
Bake for 50-60 minutes uncovered or longer until top noodles brown and are crisping. Allow the kugel to rest for 15 minutes to set before serving. Can serve warm, room temperature or cold.