English Toffee
3 cups finely chopped toasted almonds, divided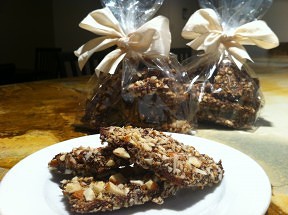 Vegetable oil
2 ½ sticks of unsalted butter
1 Tbs light corn syrup
1 cup granulated sugar
1/2 tsp kosher salt
10 oz Ghirardelli Bittersweet Chocolate Chips
Equipment: candy thermometer
First it is important to line a sheet pan with parchment paper and set aside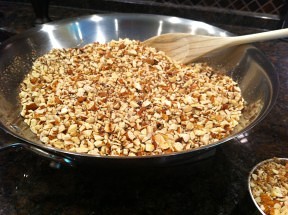 Next prepare the toasted almonds. Toast whole almonds or chop with a knife into small pieces. Toast them for roughly 8 – 10 minutes in a dry skillet stirring frequently until toasted and fragrant.  Allow them to cool.
Next, prepare your work surface and tools. Rub your work surface, a large chef's knife and a bench scraper or rolling pin liberally with vegetable oil. The work surface needs be non- porous & heat resistant so a stone counter or marble slab large that is at least 2 ½ feet square will work.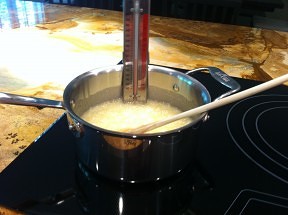 Next melt the butter over low heat, in a sauce pan. And attach a candy thermometer to the side of the sauce pan. Once the butter has melted, slowly add the granulated sugar then the corn syrup, salt and 1/4 cup of room temperature water. Using a wooden spoon carefully stir the mixture together and slowly bring to a boil. When the mixture reaches 260°F add 1/2 cup of the chopped toasted almonds. Continue stirring and continue to stir until the mixture reaches a temperature of exactly 305°F. Once it reaches 305°F; be very careful and immediately pour the boiling toffee onto your oiled work surface.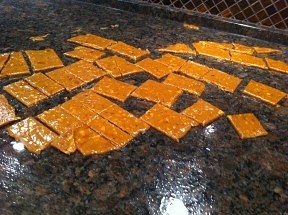 Roll with the oiled rolling pin or spread out with the oiled bench scraper the toffee until it is thin and roughly ¼ inch in thickness. Work a quickly and as carefully as you can because the toffee still needs to be cut into pieces using the oiled chef's knife before it hardens. Cut the toffee into rows about 1 ½ inches by 3 inches long. Wait about 3-5 minutes and the toffee will be cool enough to move to the next step.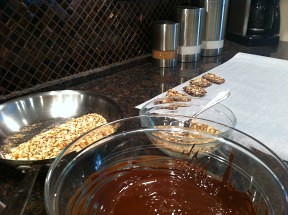 Next melt and temper the chocolate chips. Pour ½ of the chocolate chips into a heat proof bowl and set the bowl over simmering water not allowing the bowl to touch the simmering water. Melt the chocolate chips over the double boiler until melt completely by constantly whisking until smooth, shiny and fully incorporated. Do not continue to leave chocolate on the double boiler. As soon as it is melted and smooth and shiny use oven mitts or a kitchen remove the bowl from the heat and off the water and add the remaining bag of chocolate chips and whisk quickly and continue to whisk until smooth, shiny and fully incorporated. The chocolate is not melted and hopefully tempered.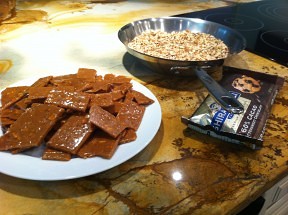 Next dip the toffee into the chocolate one piece at a time covering the pieces completely.  Allow the excess chocolate to drip off.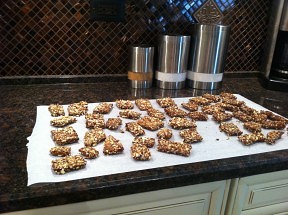 Next coat the chocolate covered toffee onto a plate with the remaining finely chopped toasted almonds. Shake off the excess and place the completed pieces on the sheet pan line with parchment paper to cool. Repeat the same process with the remaining pieces of toffee.