Almond and Macadamia Nut crusted Baked Chicken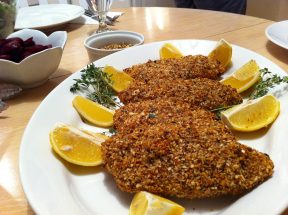 INGREDIENTS
4 boneless, skinless chicken breasts
½ cup roughly chopped raw almonds
½ cup roughly chopped macadamia nuts
4 Tbs butter cut into 1 inch pieces
1 large shallot, minced
1 cup panko bread crumbs
Zest from 1 lemon
1 tsp minced fresh thyme leaves
1/8 tsp cayenne pepper
3 large eggs
2 tsp Dijon mustard
1 cup flour
Kosher salt
Fresh ground black pepper
Lemon wedges for serving
INSTRUCTIONS
First preheat oven to 350 degrees.  Place a wire rack set inside a lined sheet pan and set aside.
In a food processor, process the chopped almonds and macadamia nuts using 1 second pulses until the nuts are ground into a course meal and set aside.
In a large skillet heat the four tablespoons of butter until fragrant and then add the minced shallots stirring constantly for 2 to 3 minutes. Add ½ teaspoon of kosher salt and ½ tsp of fresh ground black pepper then add the panko crumbs and the nuts and stir the mixture frequently over a low to low medium heat for 10 minutes so the mixture is toasted and very fragrant. Remove the mixture from the skillet and transfer to a working dish. Add the lemon zest, minced thyme and cayenne pepper to the mixture and stir to incorporate. Allow the mixture to cool completely.
Meanwhile, prepare the chicken by removing excess fat. Pat the breasts dry and season both sides of the breasts with kosher salt and fresh ground pepper and set aside.
Next prepare another working dish by lightly beating the eggs with the mustard until incorporated.  In another working dish, combine the flour with a teaspoon of kosher salt and 1 teaspoon of fresh ground pepper stirred together until incorporated.   Take 1 piece of chicken at a time and dredge the breast in flour mixture first; shake off any excess flour, next dip the coated breast into the egg mixture making sure any excess egg drips off. Last transfer to the last working disk with the ground nut panko mixture and coat all sides pressing gently to evenly coat the breast.  Transfer the coated chicken breast to the prepared sheet pan fitted with the wire rack insert and repeat the process with the remaining chicken breasts. Once all the chicken breasts have been coated with the same process bake for 25 minutes or until an instant read thermometer reads 160 degrees. Allow the baked chicken to rest 3-5 minutes and serve with fresh lemon wedges.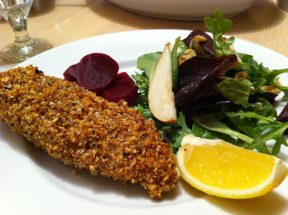 Recipe adapted from America's Test Kitchen   http://www.americastestkitchen.com/