Antipasto Platter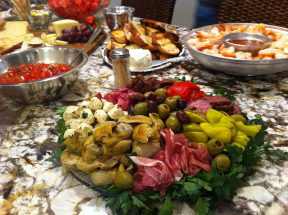 INGREDIENTS
2 cups artichoke hearts, drained & quartered
Extra virgin olive oil
Coarse Kosher salt
Freshly ground pepper
3 small bunches of fresh flat-leaf parsley
1 pound small balls of seasoned fresh mozzarella cheese
9 oz Soppressata, cubed
8 figs, halved
1 cup roasted red peppers slices, drained
9 oz black pepper crusted Genoa salami, sliced thinly
1 1/4 cups pepperoncini, drained
10 prosciutto slices, very thinly sliced
1 1/4 cups mixed olives, drained
DIRECTIONS
First preheat the oven to 425 degrees F. Line a sheet pan with foil for easy clean up. Next spread the drained artichoke hearts on the sheet pan and pat dry with a paper towel to remove excess water. Drizzle 2 tablespoons of extra virgin olive oil evenly over the artichoke hearts. Now sprinkle the kosher salt and pepper evenly over the artichoke hearts. Toss to combine and then spread into an even layer on the sheet pan. Roast the seasoned artichokes for about 25-30 minutes. Remove from the oven after roasting and allow to cool to room temperature.
While the artichokes are roasting, line a large platter with fresh flat leaf parsley.
Arrange the seasoned fresh mozzarella balls in a pile on the platter. Continue to mount the ingredients in order for optimal visual presentation. Next place the cubed soppressata, then the figs, the drained roasted red peppers, peppered salami, pepperoncini and prosciutto slices. Place the olives in the center and a few scattered throughout the platter. Once the artichokes have cooled, add them to the platter between the prosciutto and the seasoned fresh mozzarella balls.