Recipe: Deep Dish Tomato and Garlic Pizza With a Cauliflower Crust
Ingredients:
4 cups grated raw cauliflower
3 large eggs, lightly beaten
4 ¼ cups shredded mozzarella, divided
½ cup Parmesan cheese, grated and divided
Fresh ground black pepper
1/2 teaspoon crushed red pepper flakes
1 cup marinara sauce, homemade or store bought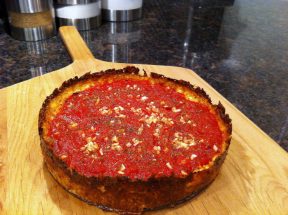 8 large tomatoes slices, sliced thin
6 cloves garlic, minced
1 Tbs of dried oregano
Directions:
First, grate the raw cauliflower using a box grater until you have 4 cups of grated cauliflower. Place the grated cauliflower in a large glass bowl and microwave on high for 6-9 minutes. The cauliflower needs to be cooked and soft. Once the grated cauliflower is cooked, allow it to cool to room temperature.
Meanwhile, preheat oven to 425° and line a sheet pan with foil for easy clean up. Spray a 9 inch spring form pan with cooking oil and set on the lined sheet pan.
Next add to the bowl with the cooled cauliflower: the beaten eggs, only 3 cups of the grated mozzarella, only ¼ cup of the parmesan cheese, and about 1 tsp of fresh ground pepper. Combine the ingredients with two forks being gentle but be sure to fully incorporate. Now press the mixture to form a crust into the prepared 9-inch round spring-form pan. Press the mixture on the bottom and up the entire sides of the pan about 1/4 inch thick but no more and place on the lined sheet pan. Bake the crust for 20-25 minutes, until the crust is golden brown. Meanwhile, in a smaller bowl combine the remaining 1 ¼ mozzarella, ¼ cup of parmesan cheese and 1/2 teaspoon crushed red pepper flakes and set aside.
Remove the crust from the oven and while the crust is still hot add the remaining cheese mixture to the hot crust and then add ¾ – 1 cup the prepared marina sauce over the top in a circular motion to evenly cover the top of the cheese mixture. Do not stir. The sauce will seep into the mixture. Now top the sauce with the minced garlic and fresh tomato slices and sprinkle with the dried oregano. Place the pizza back into the oven and bake for another 20-25 minutes until melted and bubbly.
When the pizza is bubbly, remove from the oven and let it rest in the spring form pan, do not release it. Allow the pizza to rest for 10 minutes so it will keep its shape (it won't be cold, don't worry). After 4 minutes that the pizza has rested, still do not release the spring form but use a knife to run along the inside of the spring form pan to release any stuck cheese. Wait the remaining 6 minutes, to allow the pizza to set. Once 10 minutes has passed, release the spring form and use 2 large spatulas to transfer the pizza to a serving platter and enjoy!