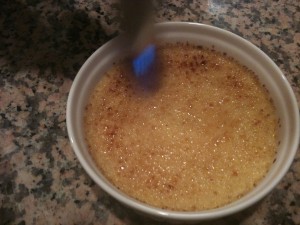 Recipe: Crème brûlée
Ingredients
1 extra large egg
4 extra large egg yolks
1/2 cup sugar plus 1 Tbs for each serving
3 cups heavy cream
1 tsp pure vanilla extract
1 Tbs orange liqueur (Cointreau)
Instructions
Preheat oven to 300 degrees F In a saucepan, scald heavy cream at 140 degrees F but don't exceed 180 degrees.
In the bowl of an electric mixer fitted with the paddle attachment mix the egg, egg yolks, and 1/2 cup of sugar together on low speed.
VERY Slowly add the hot cream (don't make scrambled eggs or you have to start over) Once the cream is mixed, add the vanilla and orange liqueur.
Pour mixture into 5 (10 oz) ramekins almost to the top.
Place the ramekins into 2 baking pans filled half way up the sides of the ramekins with boiling water. Bake for 35 to 40 minutes until the custard is "set". When you gently shake the ramekin the custard will wiggle gently.
Remove the custards from the water bath and transfer a wire rack to cool down to room temperature.
When they reach room temperature place plastic wrap to cover the individual ramekins and refrigerate for at least 2 hours.
When time to serve, remove plastic wrap. Shake 1 Tbs of sugar over each ramekin and using a kitchen torch to caramelize the sugar to form an even sugar crust. Wait 1-2 minutes to cool sugar and enjoy.
Cooking time (duration): 30
Number of servings (yield): 4
Meal type: dessert
Recipe adapted from the Barefoot Contessa   http://www.barefootcontessa.com/
Recipe by yumm yumm yumm.
Microformatting by hRecipe.