Recipe: Spicy Brisket Chili
Ingredients
4 Tbs canola oil
3lbs brisket cut into ½ inch cubed pieces
3 cups yellow onions- chopped
5 garlic coves- minced
1 Tbs ground cumin
1 Tbs chili powder
½ Tbs cayenne pepper
½ Tbs crushed red pepper flake
6 ripe tomatoes- diced
1 (28oz) can diced tomatoes with juices
1 green pepper diced
¼ cup brewed coffee
½ cup fresh chopped cilantro
1 (14 oz) can light kidney beans- drained and rinsed
1 (14 oz) can dark kidney beans – drained and rinsed
Kosher salt and pepper to season
Optional toppings:
Store bought season tortilla strips
Fresh chopped onions or scallions
Shredded cheddar cheese
Lime wedges
Sour cream
Serrano or jalapeño peppers- minced
Instructions
First cut the brisket into ½ inch cubed pieces. Pat all the pieces dry with paper towel and set aside.
In a large dutch oven heat the 4 Tbs of canola oil. In batches brown the cubed brisket on all sides to brown and transfer the brown pieces to bowl.
In the same dutch oven deglaze the pan by adding the chopped onions and stir frequently to scrape up the brown bits. Heat the onions until they are soft and fragrant. After about 6 minutes add in cumin, chili powder, cayenne and red pepper and stir into the onions until incorporated well about another 2 minutes. Next add the minced garlic and stir constantly for 1 minute then add all the fresh diced tomatoes as well as the canned tomatoes. Stir in the diced green peppers and bring to a simmer. Add the browned cubed pieces of brisket back to the pot along with any accumulated juices and cook covered at a simmer for 2 ½ hours stirring every 15 minutes.
After 2 ½ hours add the ¼ cup brewed coffee, check salt and pepper for seasonings and return to a simmer and cover and cook for another 45 minutes.
After 45 minutes add the fresh chopped cilantro and the light and dark kidney beans to the pot and heat for 15 minutes to make sure the beans are heated through.
Serve in bowls and garnish with any optional toppings served at the table.
Recipe adapted from the Barefoot Contessa   http://www.barefootcontessa.com/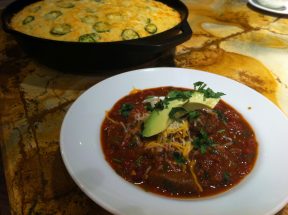 Copyright © Andicakes 2010.
Recipe by yumm yumm yumm.
Microformatting by hRecipe.