Recipe: Pesto
Ingredients
1/3 cup whole raw almonds
3 medium cloves of peeled garlic
4 cups of packed fresh basil
1/4 tsp of kosher salt
1/4 tsp fresh ground black pepper
1/2-3/4 cup really good extra virgin olive oil, depending on your desired consistency
1/3-1/2 cup of good grated parmesan cheese, depending on your desired consistency
Instructions
Using a food processor fitted with a steel blade, add the whole raw almonds and fresh peeled whole garlic cloves to the bowl and process for 15-20 seconds until they are minced finely. Now add the basil, kosher salt and pepper and place the cover back on. With the machine running pour the extra virgin olive oil down the feed tube and process until the entire mixture is pureed. Open the lid and then add the fresh grated parmesan cheese and process again until incorporated and serve over hot pasta!
Recipe adapted from the Barefoot Contessa   http://www.barefootcontessa.com/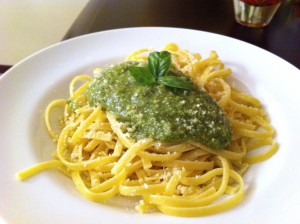 Preparation time: 15 minute(s)
Culinary tradition: Italian
My rating 5 Oh my stars!:  ★★★★★ 1 review(s)
Copyright © 2011 Andicakes.
Recipe by Now you're cooking!.
Microformatting by hRecipe.