Recipe: Chocolate Chip Cream Cake
Ingredients
2 cups heavy cream, cold
12 oz mascarpone cheese, cold
½ cup sugar
¼ cup Kahlúa liqueur, chilled
2 Tbs unsweetened cocoa powder
1 tsp superfine ground espresso
1 tsp pure vanilla extract
2 (15-oz) Chips Ahoy original chocolate chip cookies (not the chewy ones)
For Garnish
Instructions
Use an electric mixer fitted with the whisk attachment, make sure the bowl of the mixer has been chilled to promote whipping. First add the cold heavy cream along with the mascarpone, sugar, Kahlúa liqueur, cocoa powder, ground espresso and vanilla and whisk on low and gradually increasing the speed to high until incorporated and peaks form and resembles chocolate whipped cream.
Now assemble the cake by arranging the chocolate chips in an 8 inch spring form pan making sure to cover the entire bottom. It is okay to break the cookies into pieces in order to fill in any gaps. Once the first layer of cookies is down, spread ¼ of the chocolate whipped cream and repeat the same process three more times to make four alternating layers of each. The fourth and final layer will be chocolate whipped cream with some space remaining at the top and some cookies will be left over. Use an offset spatula to smooth the top layer and set in the refrigerator overnight to set up.
Before serving, scatter chocolate shavings over the top; remove the cake from the spring form pan by running a sharp knife along the edge and slice. Keep the cake refrigerated and serve cold.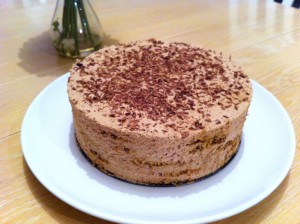 Preparation time: 15 minute(s)
Recipe adapted from the Barefoot Contessa   http://www.barefootcontessa.com/
Copyright © 2011 Andicakes.
Recipe by Now you're cooking!.
Microformatting by hRecipe.