Recipe: Broccoli and Pasta Salad
Ingredients
6 cups broccoli florets
2 Tbs kosher salt
1 lb bow tie pasta
2 Tbs unsalted butter
2 Tbs extra virgin olive oil
1 tsp minced garlic
Zest of 1 lemon
3 Tbs fresh squeezed lemon juice
½ tsp fresh ground black pepper
¼ cup of sliced toasted almonds
¼ cup fresh grated parmesan cheese
Instructions
First prepare a large bowl of ice and cold water. Blanch the broccoli florets for 3 minutes in a large pot of boiling water. After 3 minutes use a spider, slotted spoon or sieve to remove the blanched broccoli from the boiling water and place them in the ice water bowl to cool, set the color and stop the cooking. Allow the broccoli to sit for about 1-2 minutes and then drain the ice water and set the cooled broccoli florets aside. Using the same boiling pot of water, add 2 Tbs kosher salt to the boiling water and cook the bow tie pasta to the package specifications for al dente. Drain the pasta and place in a very large bowl.
While the pasta is cooking prepare the sauce. Heat the butter and extra virgin olive oil until melted and add the minced garlic, lemon zest and lemon juice and warm for about 1 minute. Gently whisk to incorporate and remove from the heat.
Add the broccoli to the bowl with the drained pasta along with the sauce and the fresh ground black pepper. Toss gently to evenly distribute the sauce. Next add the toasted sliced almonds and fresh grated parmesan cheese and toss gently. Serve warm or room temperature.
Recipe adapted from the Barefoot Contessa   http://www.barefootcontessa.com/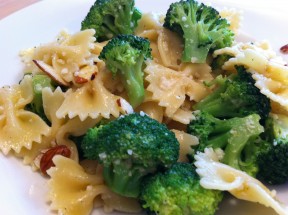 Copyright © 2011 Andicakes.
Microformatting by
hRecipe
.